From the moment of Banjo and Charlene's picture-perfect engagement in Hawaii (Banjo's mom led Charlene to the beach, where he was standing in a circle of rose petals, waiting for her), they knew they wanted a wedding as dreamy and unforgettable as their love story.
We were so honored, then, when the couple approached Weddings By Dzign to provide its Las Vegas wedding design services for their unforgettable springtime soiree. From the moment we first met with the creative couple, we knew this was going to be an amazing affair. They had a great idea of what they wanted, but were also open to suggestions from the By Dzign Decor team. Ultimately, we landed on a classically romantic aesthetic, set against the backdrop of a lush Las Vegas golf course.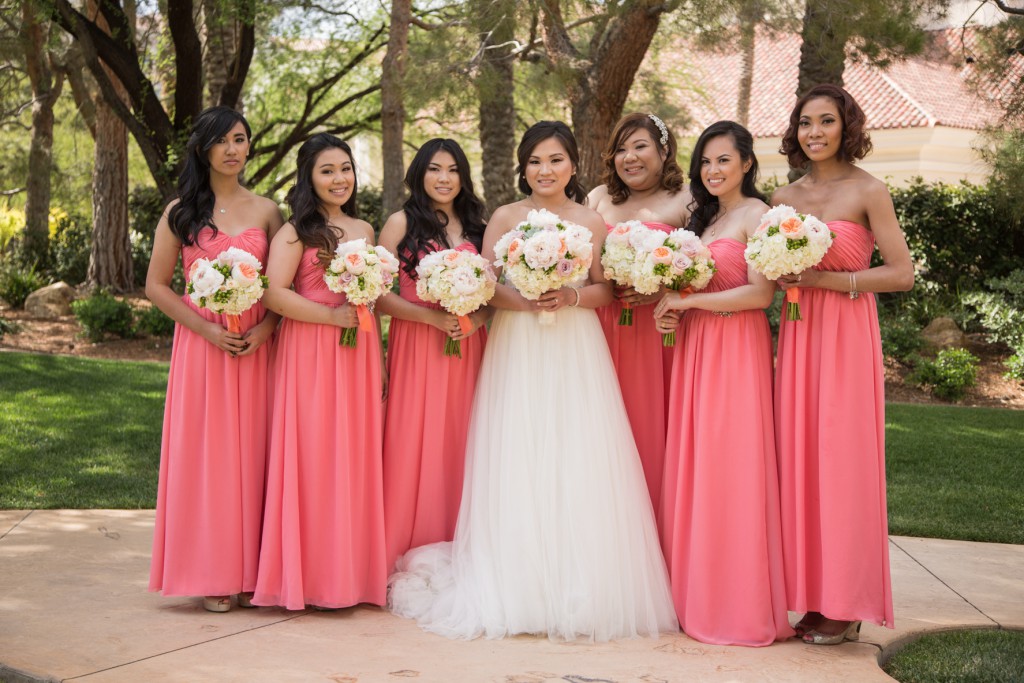 The couple chose a beautiful coral, peach and silver palette—colors that played perfectly against the springtime hues of Siena Golf Club, their chosen venue.
We brought the oh-so romantic palette to life through strategic design choices and super dreamy florals. White peonies, blush roses and coral garden roses sat pretty next to dusty sage succulents and pops of saturated greenery.
It started to sprinkle unexpectedly as guests began to take their seats, but the muted grey clouds ended up making for such a beautiful backdrop against the bright white and coral florals. The couple's archway is one of our favorites we've designed to date, as it made such a grand statement for the ceremony (and looked extra romantic against the dark sky).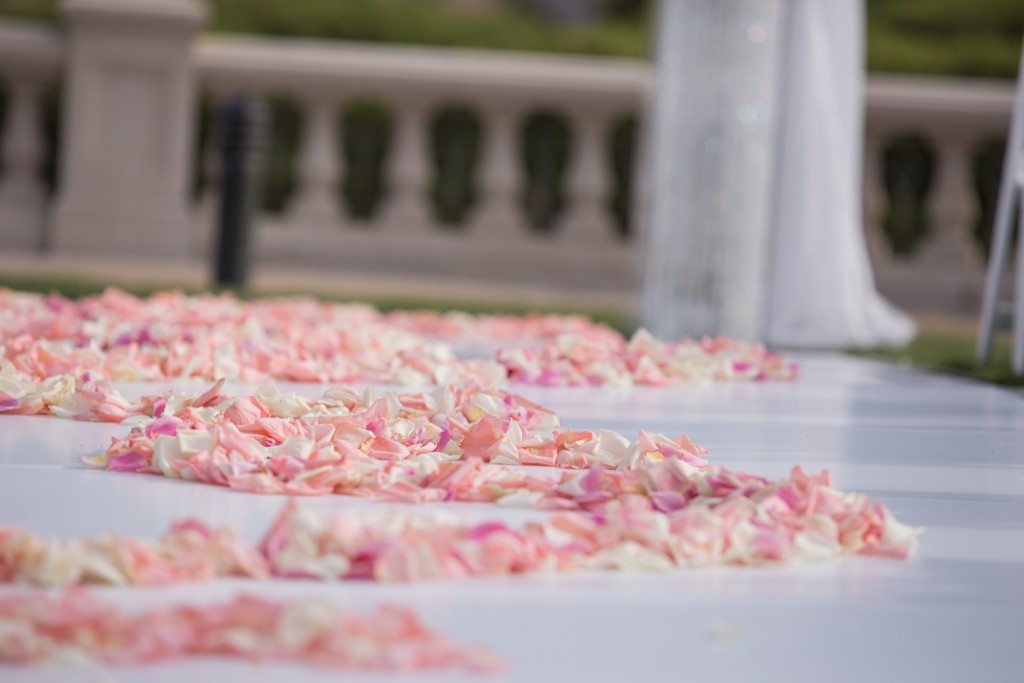 We also custom crafted a hard white runner, as the bride wore beautiful gold Jimmy Choos and needed a hard surface to stand on during the ceremony. For that added romantic touch, we placed soft blush and white rose petals in a fleur-de-lis pattern on the white runner—creating an aesthetic that was light, airy and super dreamy.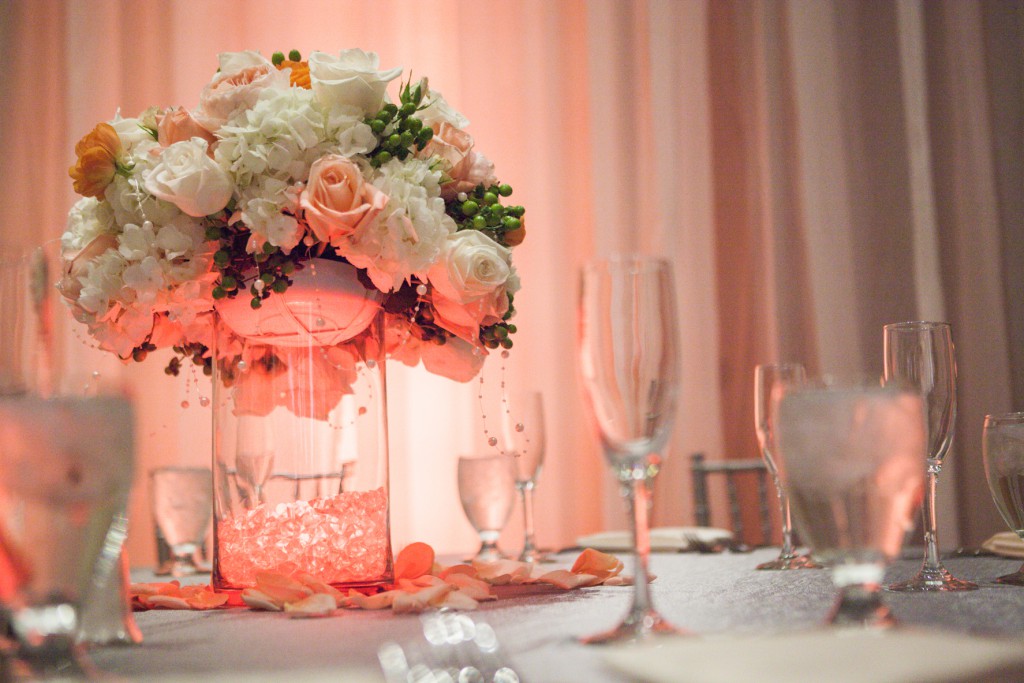 Festivities moved indoors for the reception, where all of the By Dzign departments worked together to provide everything from draping to lighting to linens. By Dzign Floral brought in towering centerpieces as glamorous as they were grand. Each sat perfectly against our soft silver linens—and each unforgettable tablescape was framed by our silver Chaivari chairs.
The wedding party sat on an elevated stage at one of our ghost tables, which the By Dzign A/V team uplit beautifully in coral. Our fan-favorite marquee letters, spelling out "Banjo & Charlene," really helped to frame the front of the stage—setting the space aside, while still keeping it part of the cohesive whole. And—our favorite part—Charlene and Banjo chose to sit in our large white throne chairs at the head table, which made such a grand statement.
Overall, we had an amazing time working with Charlene and Banjo to bring their vision of dreamy springtime soiree to life. If you're getting ready to say "I Do" and need the perfect Las Vegas wedding design team by your side, contact us or email By Dzign Wedding Designer Lucia Tovalin directly. We'd be honored to design your big day.