Kim and Garnet are one of those couples whose love for one another was so apparent from the get-go, and we had so much fun learning about their love story in preparation to plan the perfect, personalized wedding for the pair. "I hate to say it, but Garnet and I met on a blind date!" Kim said of their first encounter. "All he knew about me was that I was a tall, blonde attorney, so he bought lifts for his shoes the first date! While I think we were both nervous about that blind date, Garnet pulled out all the stops by the time of our second date at a celebrity golf tournament. He was thoughtful, charming, and kept me on my toes! I knew he was a keeper!"
We especially love that the couple trusted our team enough to hand off the baton before their Big Day, allowing us to work our wedding design magic while they worked their day jobs. Because they're both attorneys and had little time for wedding planning, they asked our Weddings By Dzign team to execute the floral, décor and coordination for their stunning Springs Preserve wedding—and we were honored to take on each one of those roles for them. Kim provided us with high-level direction on aesthetics, but let our team iron out all of the details so she and her fiancé could enjoy their time as an engaged couple.
"I told our wedding planner, Lucia, that I pictured the wedding looking like a 'secret garden dripping in glitter," Kim said. "I definitely wanted to play up the natural beauty of the Springs Preserve. Essentially, we wanted an enchanted, bright spring feel, but with some Vegas mystique to it." We worked with varying shades of purple, then, to bring the bride's Secret Garden dream to life, adding accents of gold throughout to add that Vegas mystique she and Garnet were looking for.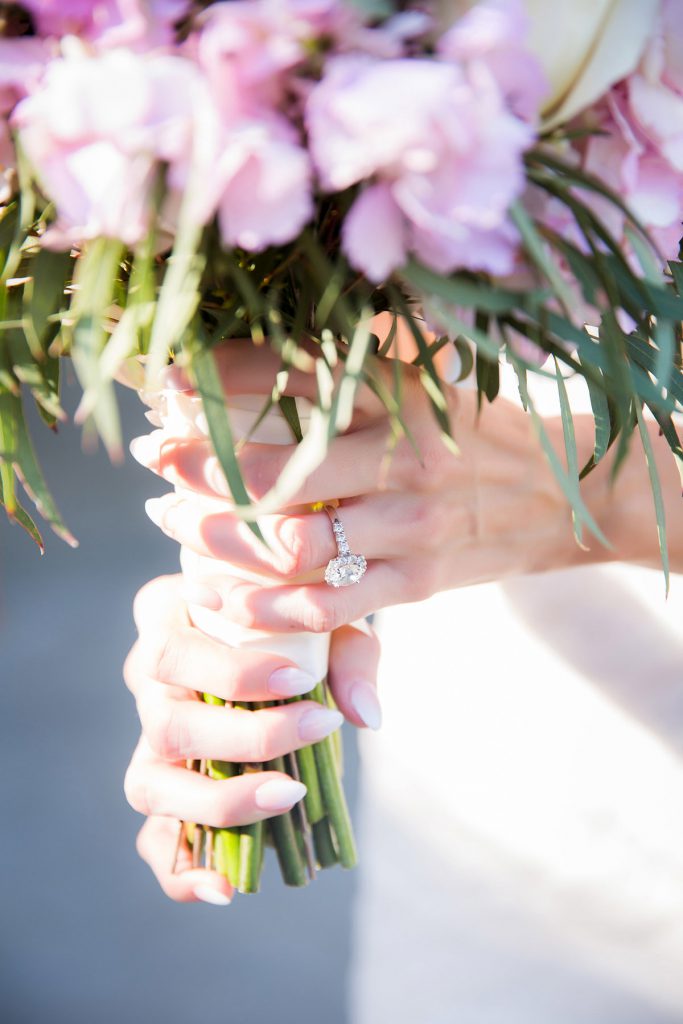 For Kim's bouquet, Floral By Dzign crafted a loose bouquet of lavender hydrangea, ivory garden roses, ranunculus, lavender wax flower and seeded eucalyptus. We tied the arrangement off with a simple ivory satin ribbon, and the bright-but-subtle springtime florals looked absolutely stunning against Kim's show-stopping gown. We then created a simple boutonniere of white ranunculus accented with lavender wax flower and seeded eucalyptus for Garnet, which popped beautifully against the jaw-dropping saturated blue hue of his suit.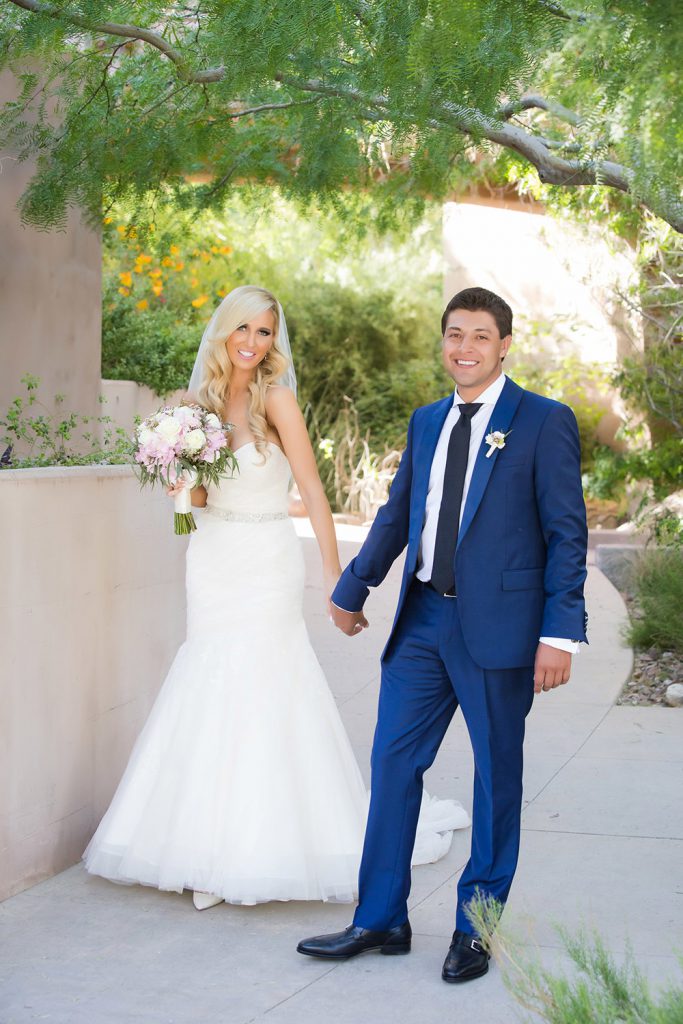 For the ceremony space, we worked with the Springs Preserve's existing arbor to create an altar space that felt a little organic, a little whimsical and a whole-lot Secret Garden-esque. We added simple white chiffon to help draw guests' eyes to the altar, and accented the chiffon with a greenery garland that housed perfect pops of purple floral blooms. To help define the aisle, we lined it with LED pillar candles, romantic lanterns and loose ivory rose petals. The end result was a ceremony space that felt both magical and mystical at once.
Following the ceremony, guests made their way to cocktail hour, where we peppered the space with high cocktail rounds, which Linen By Dzign dressed in a simple-but-stunning lavender luxe linen. We then accented each table with loose greenery and gold mercury votives for a touch of enchantment.
Guests then moved indoors where they dined amongst a space that felt just as magical and organic as the garden they just came from. Linen By Dzign dressed reception tables in ivory accordion linen, which really worked to add some texture and depth to the tablescapes. We then worked to bring the outdoors in, by accenting long, linear tables with a loose greenery garland runner, which housed purple and ivory floral blooms and pops of glass bud vases filled with simple garden blooms.
For round tables, we created centerpieces of a single lantern housing a pillar candle surrounded by glass bud vases housing purple floral booms, and loose pieces of greenery—ultimately creating centerpieces that felt both earthy and fit for a royal garden. We then accented each table setting with gold lacquer chargers and simple ivory napkins, and framed each table in gold chiavari chairs.
Perhaps our favorite part of the reception, though, was the head table, which housed a lush greenery garland, mood-setting lanterns and pops of loose purple florals throughout. We created a backdrop of suspended twinkle lights against hanging white chiffon for the head table, which really helped to draw guests' eyes to the area and to create a space all of its own for the wedding party and bride and groom.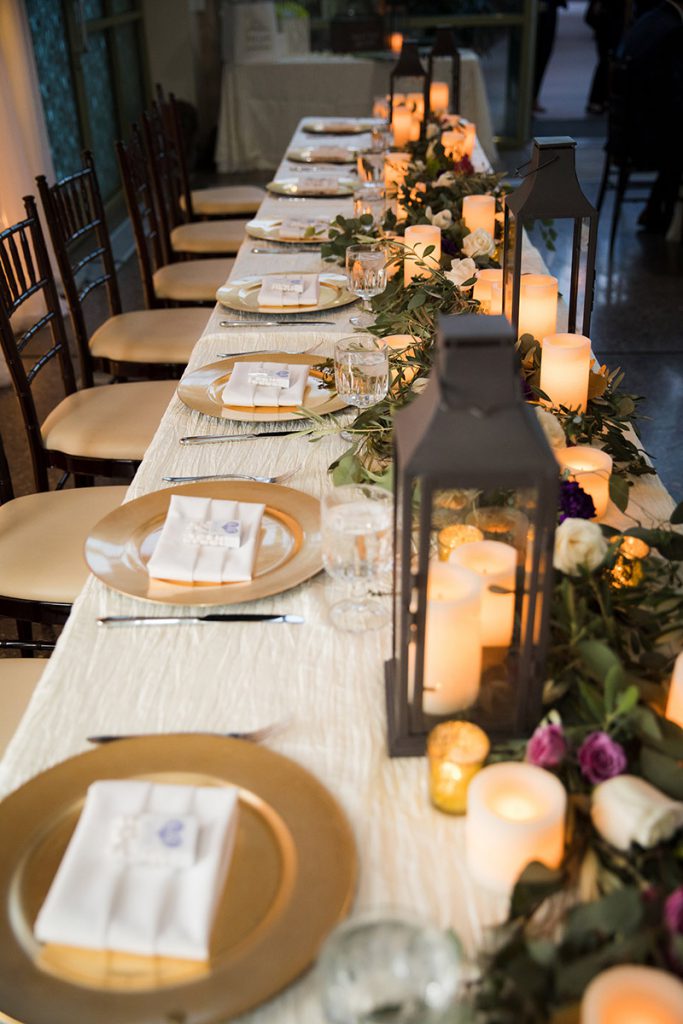 To really drive home that whimsical, romantic, Secret Garden aesthetic Kim and Garnet were going for, we accented the entire reception space with hanging white chiffon draping, soft twinkle lights and white lanterns. "The final product was exactly what I envisioned – only better!" Kim said of the overall wedding design. " Lucia did an incredible job incorporating the colors and personal touches to the wedding that made it so stunning."
Overall, we were beyond honored to help bring this beautiful couple's Secret Garden at the Springs Preserve wedding vision to life, and we couldn't be happier with how this whimsical and enchanted affair turned out.
"My family and guests could not say enough about the stunning décor at my wedding! Lucia and the By Dzign created the enchanted 'secret garden' feel I was going for – it was absolutely stunning!! She took my somewhat vague description and myriad of random Pinterest photos and married the ideas, themes, and colors together perfectly while keeping the integrity of our wedding venue. On top of it all, Lucia remains calm, cool and collected. She handled any hiccups with ease – i.e., like the groom's father running a little late and finding us a limo home at the last minute.
I know it's hard to hand over the reins to one place, but this is a great one-stop shop for wedding planning, décor, and flowers. Lucia and her team are very creative and super efficient. They made everything run so smooth that I actually had time to soak in the moment and enjoy the day without worrying about the details. I would highly recommend!"
-Kim
VENDORS
SaveSave