From massive cherry blossom centerpieces to a stunning ivory bridal bouquet, Willavy and Ry hosted one of the most breathtaking fall weddings we've ever seen. We were so thrilled, then, that they asked Weddings By Dzign to be a part of bringing their beautiful event vision to life.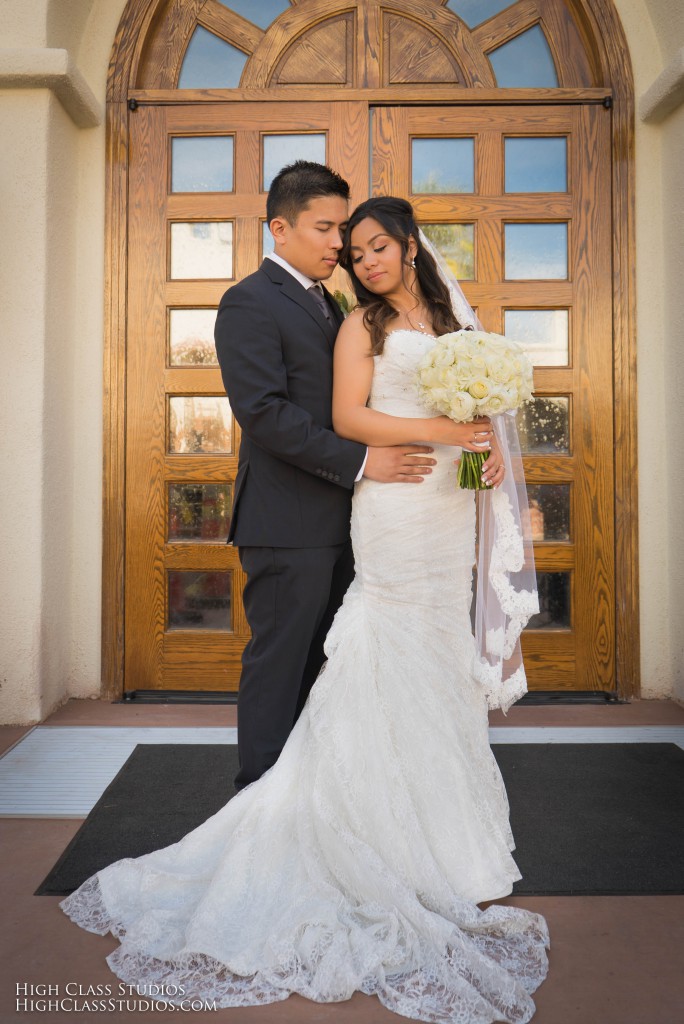 The couple was married in October and chose to hold their ceremony at the beautiful St. Joseph Husband of Mary Roman Catholic Church here in Las Vegas. The church itself was so visually interesting that it needed little dressing up—we simply worked in some floral touches throughout to add a soft, celebratory feel to the storied space. For the ceremony, Floral By Dzign provided altar arrangements of white hydrangeas and, for some serious height and depth, added sprawling cherry blossom branches to the arrangements.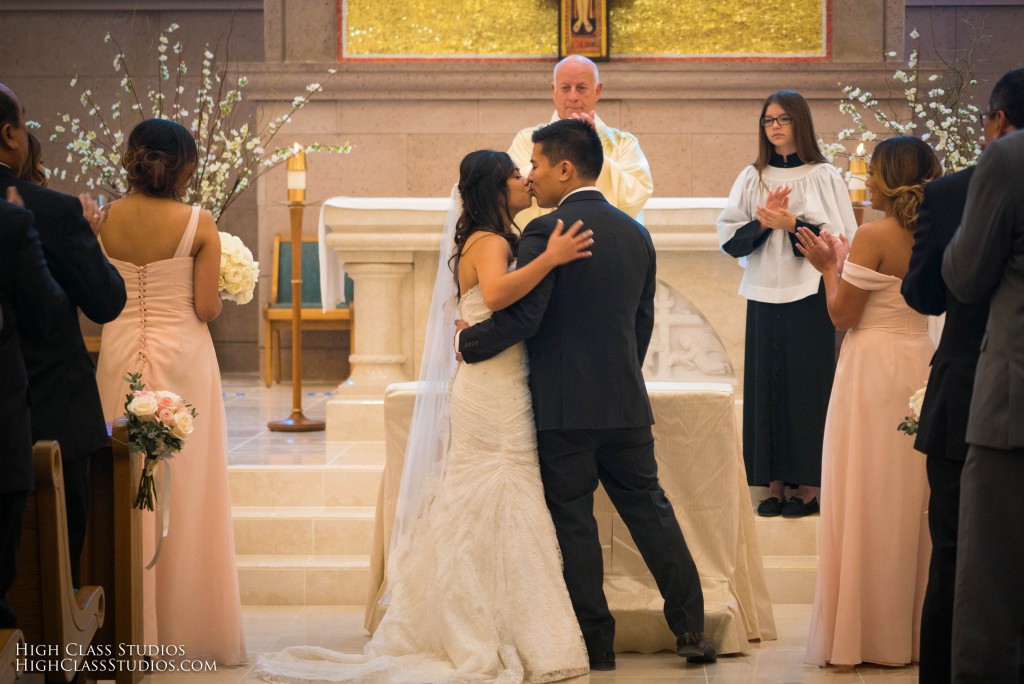 Our floral team also provided pew markers composed of blush and white roses with pops of deep greenery throughout. Floral By Dzign custom-crafted Willavy's stunning ivory bridal bouquet, which was chock-full of plush ivory roses, hydrangea and ranunculus.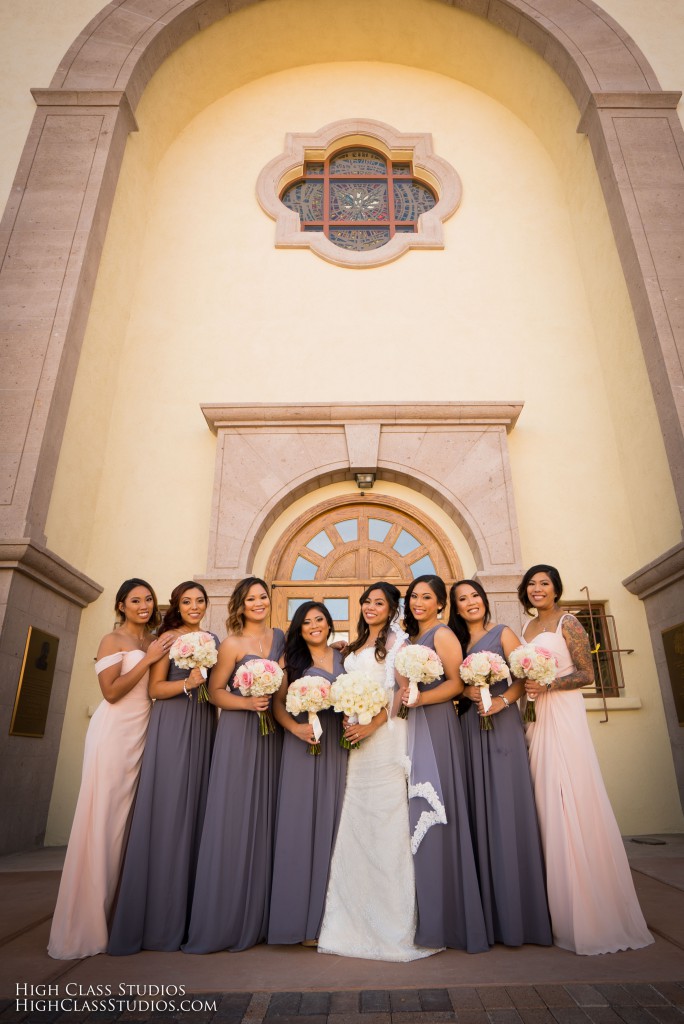 We also out fit all of the groomsmen with simple, understated ivory rose boutonnieres, and, for the bridesmaids, created simple, focused bouquets of ivory roses and hydrangeas with pops of soft pink throughout. The soft, romantic hues in the bridesmaids' bouquets ended up pairing perfectly with their charcoal grey gowns.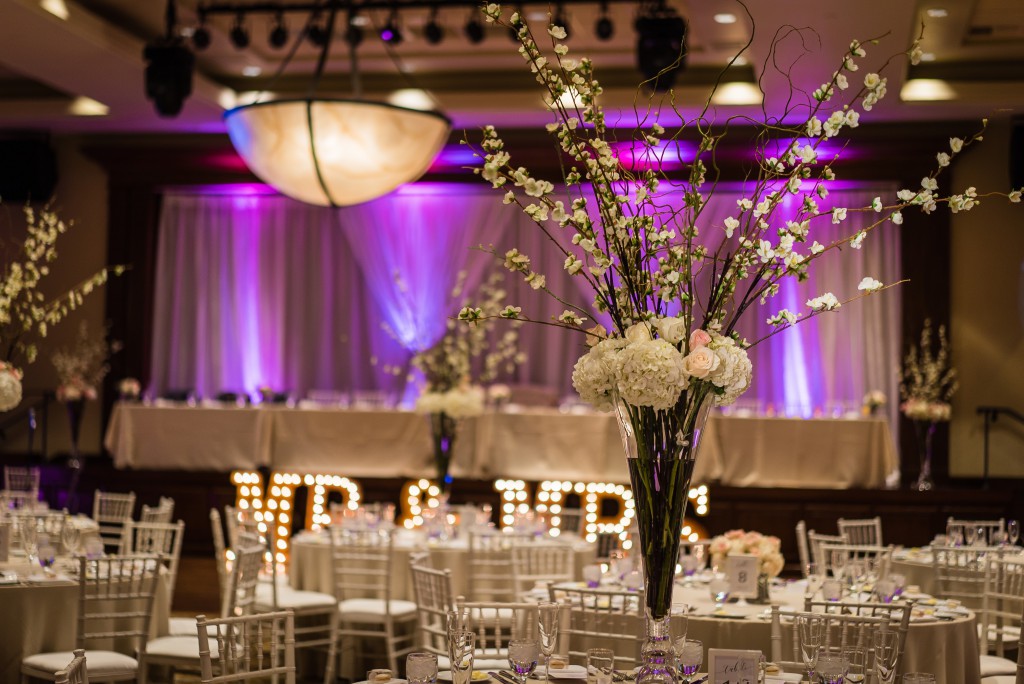 Following the ceremony, guests made their way to Siena Golf Club for the stunning reception. Linen By Dzign provided soft backdrop draping, which really helped to define the area behind the sprawling head table. The draping was lit in a soft blush hue that added a touch of romance and mood lighting to the space.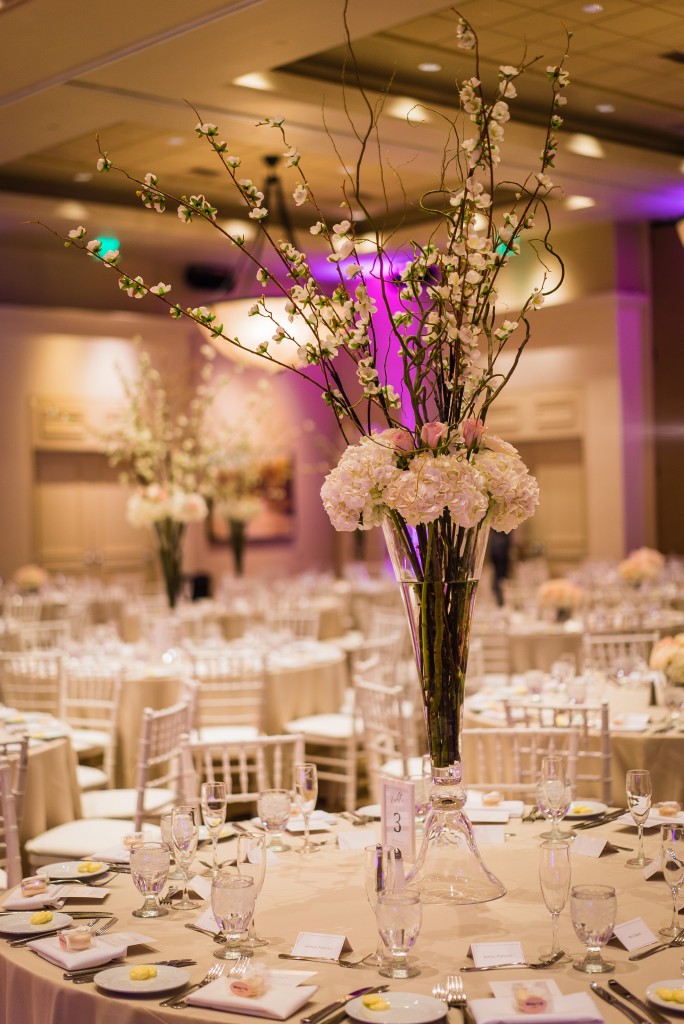 To add some visual depth to the room, our floral team provided cherry blossom centerpieces that housed ivory hydrangeas and roses at their base, creating arrangements that had varying—and visually interesting—layers to them.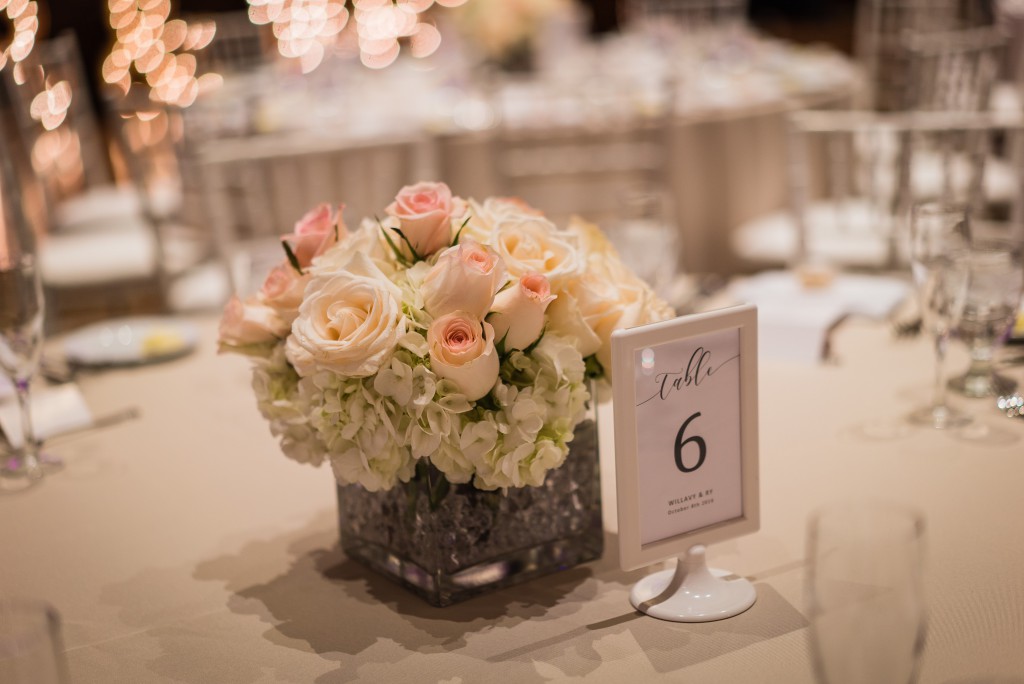 To help balance out the height from the cherry blossom centerpieces, we also created low floral centerpieces of blush and ivory roses and hydrangeas—which were much more focused and centered than their sprawling cherry-blossom counterparts. Overall, the two contrasting centerpiece shapes made for a visual balance that was nothing short of stunning.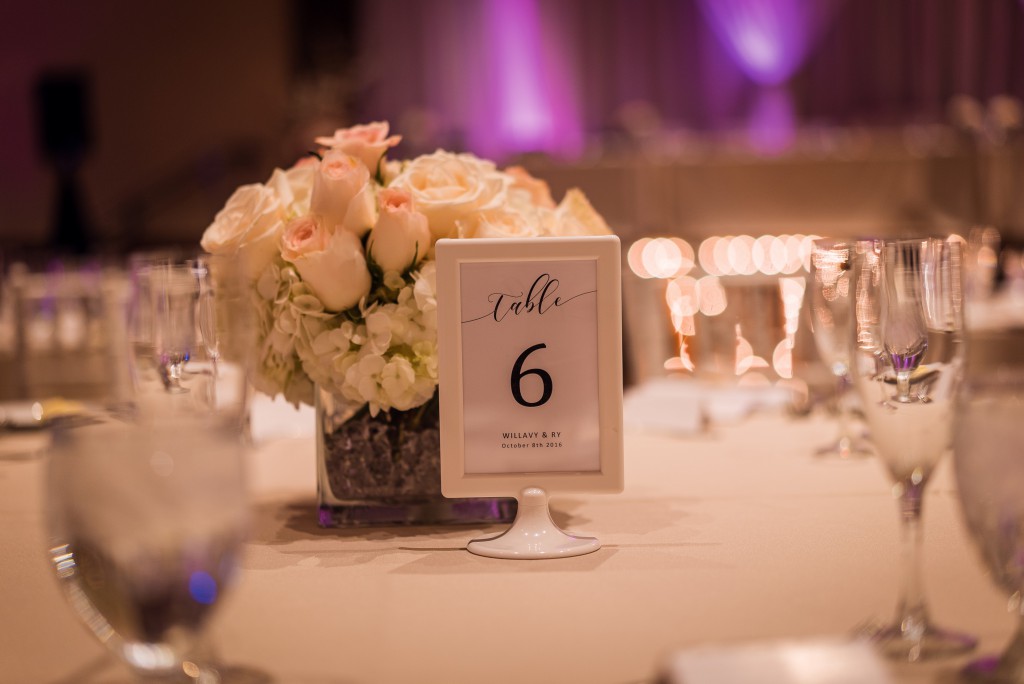 We were so honored to work with Willavy and Ry to bring their fall wedding vision to life, and could not be happier for the oh-so-in-love couple.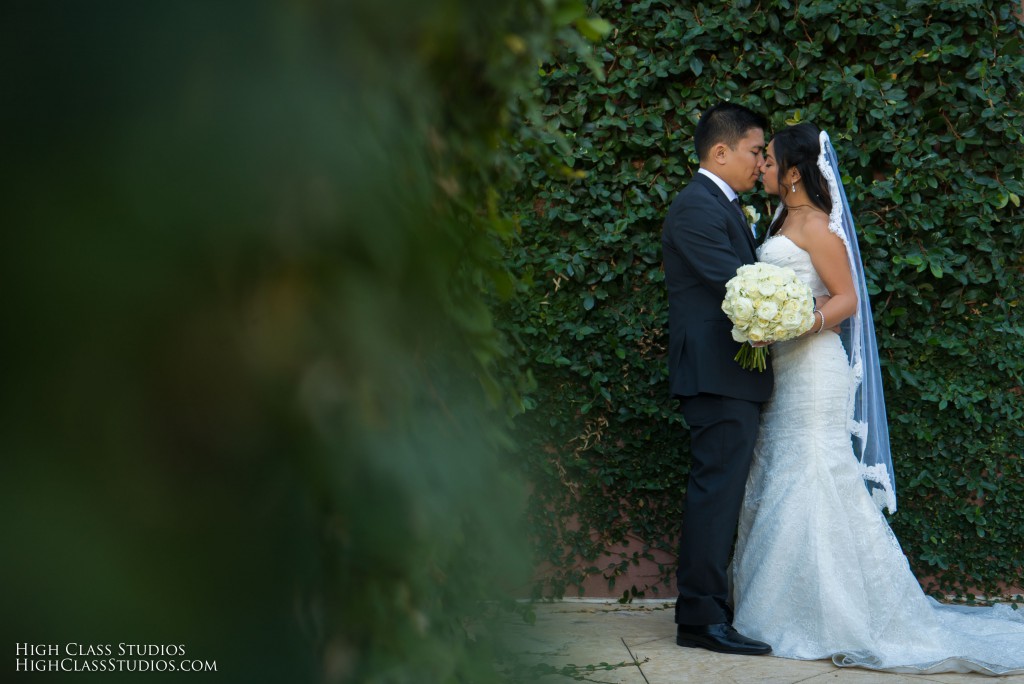 "By Dzign made my wedding beautiful! Lucia was easy to communicate with and fulfilled my dream wedding perfectly! I would definitely recommend them to any bride!!"
-Willavy