There's nothing we love more than a couple who isn't afraid of color, and Tiara and Antonio did not disappoint in this regard. From the moment we met, Weddings By Dzign knew the couple's unique vision was one we wanted to bring to life. Tiara and Antonio chose the M Resort as their venue, and our entire team was thrilled to provide its Las Vegas wedding design services for such a striking soirée.
Because Tiara and Antonio were married in the fall, they chose an autumn-inspired color palette. Shades of dark plum were balanced by saturated orange hues—creating a balance that managed to feel both lively and deeply romantic. Tiara also chose to incorporate crystal accents throughout to really glam up the overall event aesthetic and to add some serious sparkle to the affair.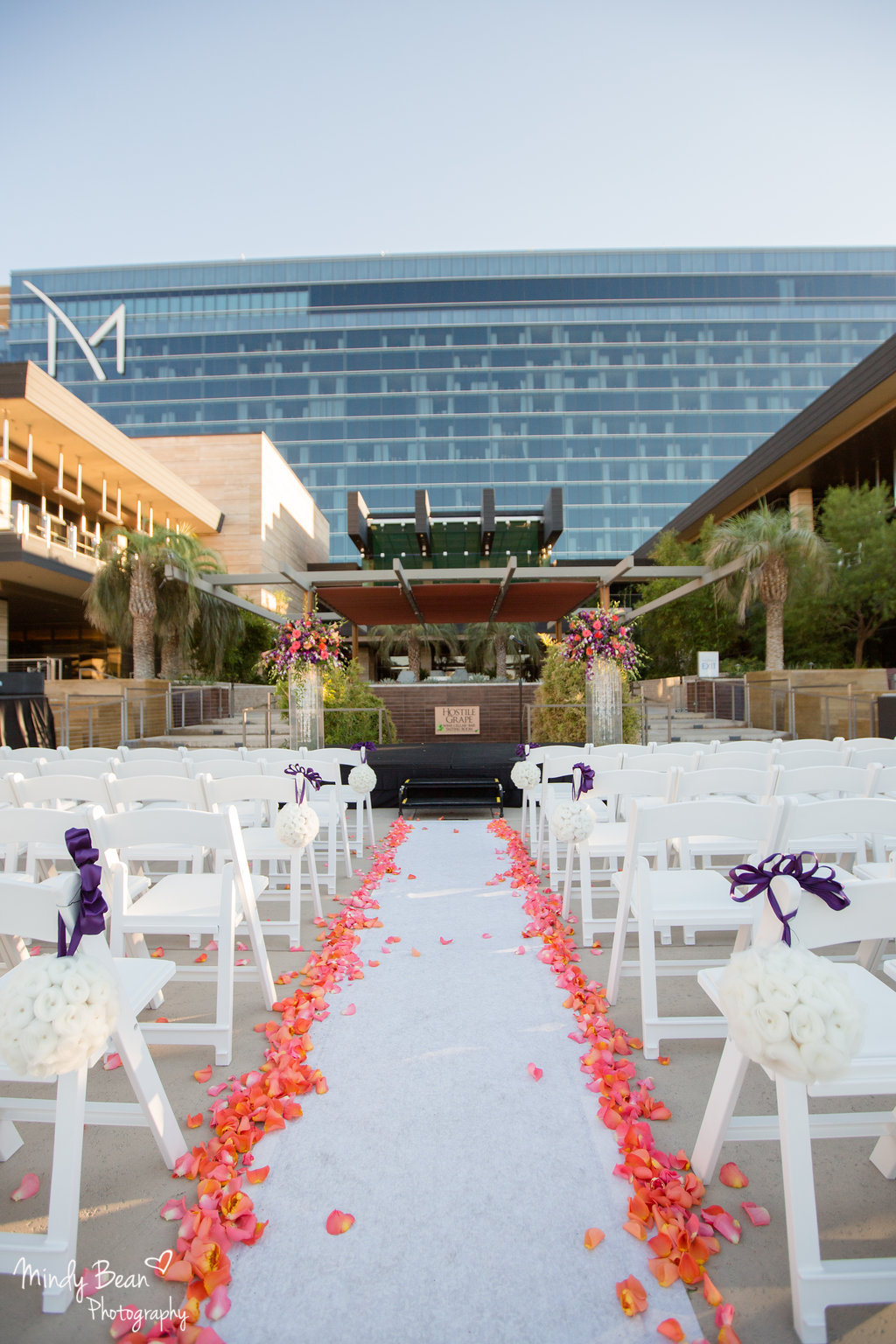 The ceremony took place poolside at the M Resort, and the bride made her unforgettable entrance through a long line of striking infinity pools. We lined the aisle with coral and orange rose petals to really add some depth and dimension to the stunning setting. Floral By Dzign created massive, wispy-meets-whimsical altar arrangements set atop a lucite box that housed a hanging crystal chandelier. The arrangements themselves boasted mango and Schwartz calla lilies, purple dendrobium orchids, purple stock, purple hydrangea, and wild greenery throughout.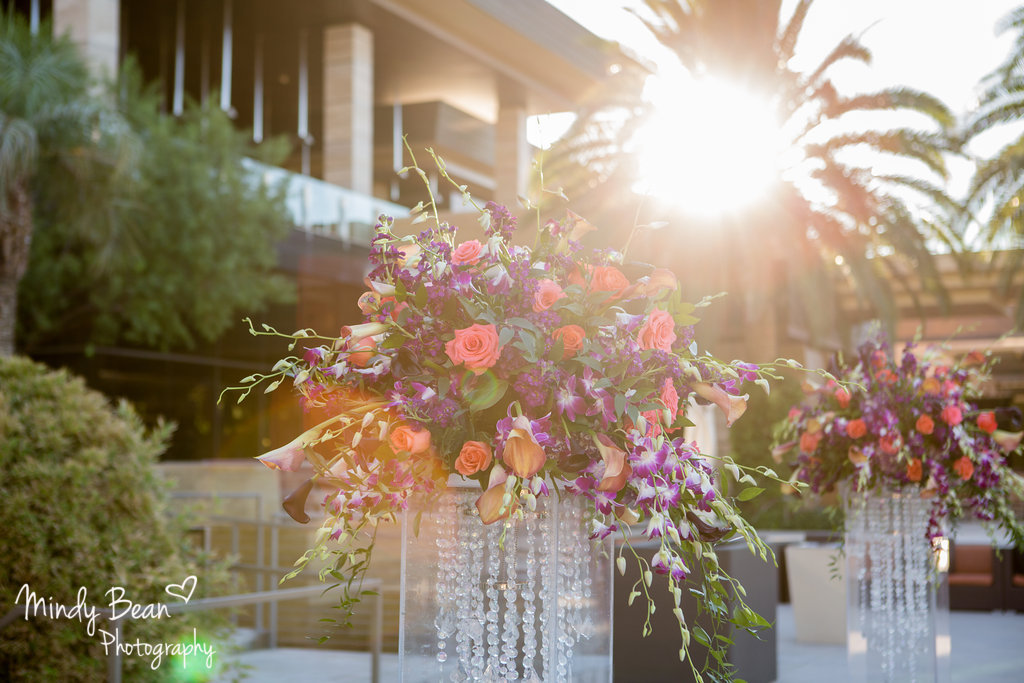 For the bride's bouquet, the By Dzign Floral team created a tightly focused arrangement consisting of coral roses, plum hydrangea, and stunning Schwartz and mango calla lilies—tied with a simple, understated ivory ribbon. The colors played perfectly into one another and created an arrangement that felt like nothing other than fall in Las Vegas (which happens to be our favorite time of year). For the groom's boutonniere, the couple chose a simple Picasso calla lily accented with understated green bear grass loops.
After the couple said their I Do's, guests moved inside for a night of celebration at LUX, the M Resort's 16th-floor private venue boasting massive floor-to-ceiling windows. Linen By Dzign brought in plum luxe linens that creating a truly grand aesthetic. Furniture By Dzign accented each deep plum table with its fan-favorite gold chiavari chairs. For tablescapes, the couple chose gold charger plates and deep plum napkins, two small design details that really added to the overall cohesion of the event.
For centerpieces, we alternated between submerged plum and mango calla lilies in cylinders at varying heights (below), and a stunning 24" crystal pilsner vase chock-full of purple and orange florals (above). The varying centerpieces added tons of visual interest to the room and made for truly eye-catching design details.
It was such an amazing opportunity to provide our Las Vegas wedding design services to this unbelievable couple. We loved their bold color choices and the emphasis they put on florals—two things that came together to create a stunning soirée like we've never quite seen before.