Kate and Phil were such a fun couple to work with and we knew, from the moment we met them, that we wanted to be part of their stunning September wedding. We love a couple who isn't afraid of color, and the duo certainly didn't disappoint on that front. They chose a palette of purples accented with pops of pink and peaches, which ended up feeling so stunning and celebratory against the jaw-dropping architecture of the Keep Memory Alive Center in Las Vegas.
For Kate's bouquet, Floral by Dzign crafted a tight and focused arrangement of pink roses, purple orchids and peach hypericum—and the combination of bright colors looked absolutely magical against Kate's gorgeous white gown. For Phil's boutonniere, we went with a simple peach calla lily and a single purple orchid to really tie his look together with his bride's. We also crafted bridesmaid bouquets of pink and peach roses, Picasso calla lilies and peach hypericum—and the color combination paired perfectly with their bright  coral dresses.
For the ceremony space, we worked to bring in tons of purple, pink and peach hues as a way to pop the muted desert backdrop. We dressed a silver scroll arbor in pink roses, peach roses, lavender roses, purple hydrangea and hanging purple roses (with a some greenery accents as well), and the colors ended up looking so bright and beautiful against the desert trees that surrounded the setting.
Along the aisle, we placed trios of cylinders with submerged purple vanda orchids beneath a single floating candle. We continued this same aesthetic at the altar, where, on either side, we placed a taller trio of cylinders with submerged purple vanda orchids under floating candles. Overall, the end-result was a ceremony space that was ultra romantic and full of color at once.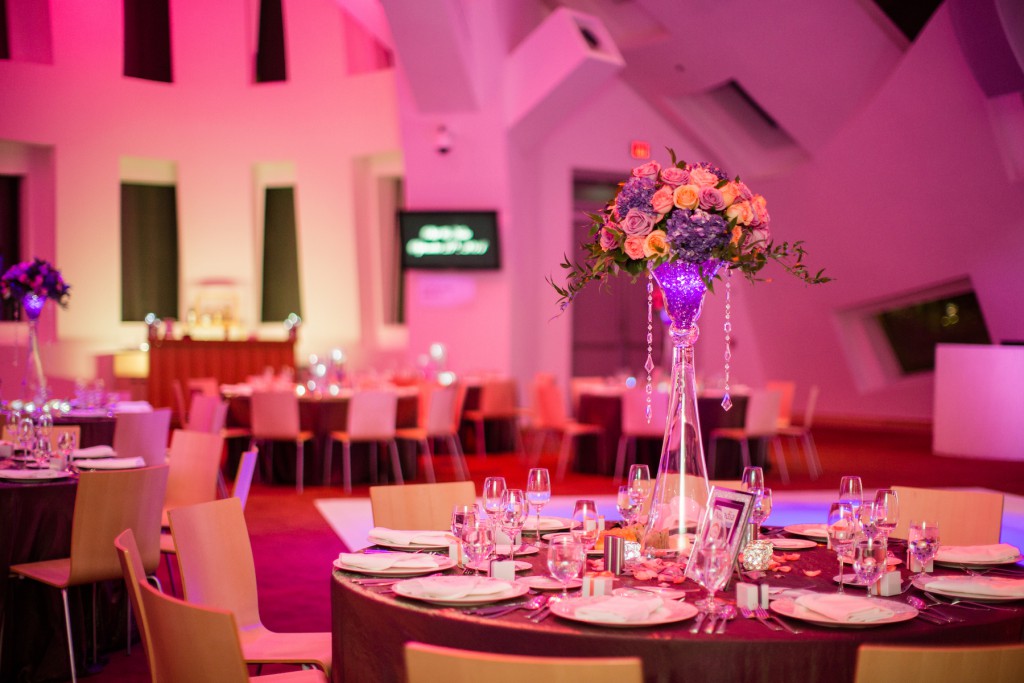 For the reception, guests moved indoors where tables were covered with Linen by Dzign's purple iridescent linen and finished with alternating centerpieces. Certain tables boasted a trio of cylinders with submerged purple orchids and floating candles, accented with rose petals and bling votives around the base of the cylinders. Other tables were finished with a taller floral arrangement, which was composed of purple-lit gems, hanging crystals and a floral topper of purple hydrangea, lavender roses, pink roses and peach roses—all set atop a tall veronica case. The varying centerpieces really helped to add depth, dimension and some serious height to the already stunning space.
Kate and Phil love to travel, so they had the idea to name each table after a locale they visited while dating. This ended up being such a fun design detail and a great conversation starter for guests as well.
For Kate and Phil's sweetheart table, we brought the ceremony arbor inside and used it as a backdrop to help define the duo's special space and some serious drama to the room. We dressed their table in a low chalice vase filled with lavender roses, pink roses, peach roses and purple orchids. We then added some visual interest to their table with bling votives, small silver vases with single rose blossoms and romantic rose petals.
Overall, we had such an amazing time playing with colors and florals that popped to bring Kate and Phil's Keep Memory Alive Center wedding to life. The venue they chose was already stunning on its own, so we simply worked to play up the setting's innate beauty through the strategic use of color, lighting and swoon-worthy design details.