Valerie and Andrew are one of those couples that you can just tell are truly head-over-heels for one another. Valerie works as the Regional Special Events Manager for Caesars Entertainment and, Andrew, as the Regional Capture Manager for Caesars Entertainment, so it was no surprise the couple would have a romantic Caesars Palace wedding like no other. At Weddings By Dzign, we truly love our Las Vegas community and our Caesars Family, so it was a special honor to bring the couple's event vision to life.
From the moment we heard about their engagement, we knew their Caesars Palace Wedding would be as dreamy and romantic as they are as a couple. Andrew actually proposed in the middle of the ice skating rink at Downtown Summerlin here in Las Vegas as the couple was surrounded by some of their closest friends. The romance didn't stop there, though—the couple knew they'd have a truly romantic wedding from the moment they were engaged. "Andrew and I are both romantics at heart and we wanted that to be showcased at our wedding," Valerie said. "True romance was the main inspiration behind the color scheme and the unique decor that Weddings By Dzign was able to bring to life."
To execute their oh-so romantic vision, we worked with both a color palette and design details that were soft, inviting and utterly dreamy. For the entrance, we provided our white large LOVE table for the couple's escort-card and sign-in table, and flanked it with crystal candelabras and sky-high florals—setting the scene for serious romance before the guests even entered the event venue. While we worked to set up the space, the couple had one of its most special moments to date—a first look, a moment which Valerie said she and her groom "will remember forever."
For the reception space, Floral By Dzign worked mainly with white hydrangea and blush and ivory roses and spray roses to create arrangements that were both grand and as fairytale-like as they come. The arrangements added romance to everything from the cake table (which we draped in an eye-catching blush sequined linen) to the stunning sweetheart table (which boasted wispy sprigs of whimsical greenery).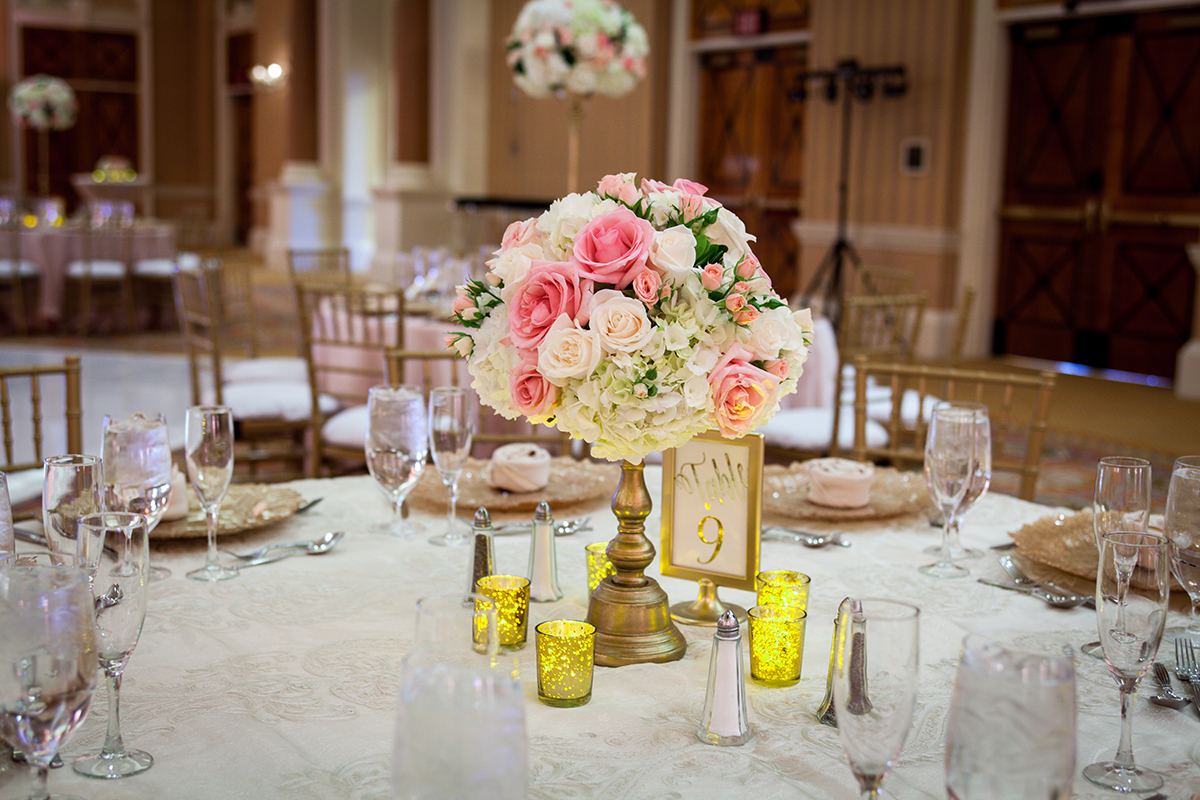 For guest tables at the reception, Linen By Dzign alternated between a blush dupioni linen and a champagne luxe underlay with the ivory Palermo lace overlay, We then peppered each table with gold mercury votives and gold sunburst chargers—both of which really added a luxurious feel to the gorgeous tablescapes.
We also crafted a 24' x 24' white gloss dance floor for the reception, on which we projected the couple's monogram. The most romantic part of the entire stunning soirée, though? The song Andrew played for Valerie on a baby grand piano. Titled "Snow Prelude #2" by Ludovico Einaudi, Andrew said he chose the song because it perfectly represented their love story—it had its high points, trying times at low decibels, and a very ethereal conclusion, which represented the peace and serenity they felt as the wedding day came.
The talented catering team at Caesars Palace provided the beautiful 5-tier wedding cake and, as a special tribute to Andrew, Valerie also had a groom's cake in the shape of a baby grand piano made for him.
Our favorite design detail of all, though? The wall of ivory roses we custom crafted for this special couple, which, with its strategic up-lighting, acted as a jaw-dropping backdrop for photographs.
Overall, we were so honored to bring this special couple's Caesars Palace wedding to life. It truly was one of the most romantic events we've ever worked on, and Valerie and Andrew truly are one of the most in-love couples we've ever met.
Vendor Team: