If you're looking for yellow wedding inspiration, look no further than Will and Steven's Las Vegas wedding at the JW Marriot. Their stunning celebrating was definitely one for the books. We love a couple who knows what they want—and Will and Steven did not disappoint on this front. As a same-sex male couple, they chose to forego flowers. Instead, they opted for yellow billy buttons as design accents throughout, and grey succulents for boutonnieres and bouquets—creating an aesthetic that felt both masculine and warm.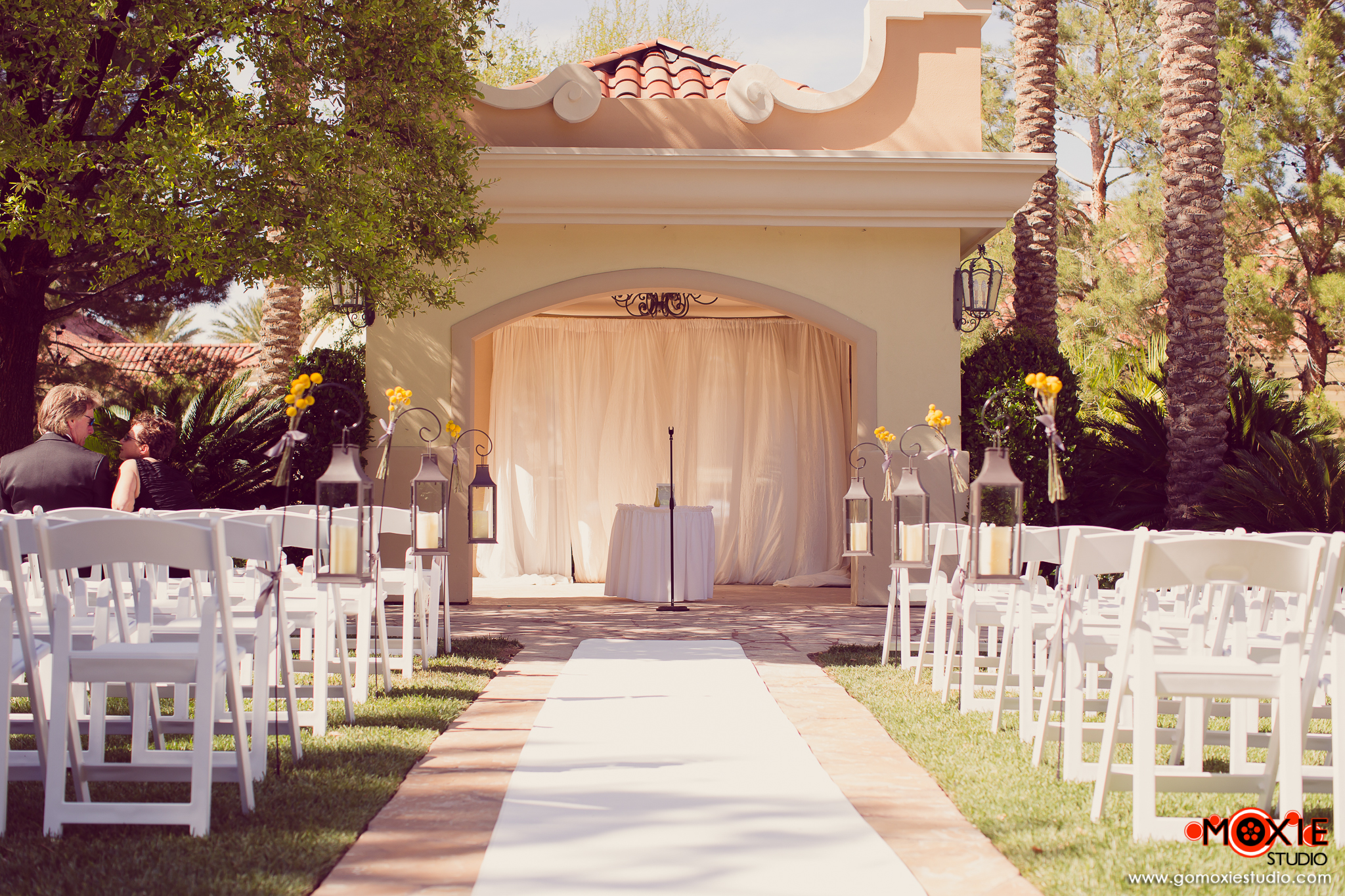 The ceremony ended up feeling so bright and airy and the weather was absolutely divine. We lined the aisle with yellow billy buttons and romantic lanterns—adding some color and warmth to the event without creating an aesthetic that felt feminine or flowery.
Our favorite part of the couple's ceremony? The military saber arch, which Will, a member of the U.S. Air Force, had ready and waiting to send him and his new groom off. It was such a special moment for everyone involved—and we're pretty sure there wasn't a dry eye in the house.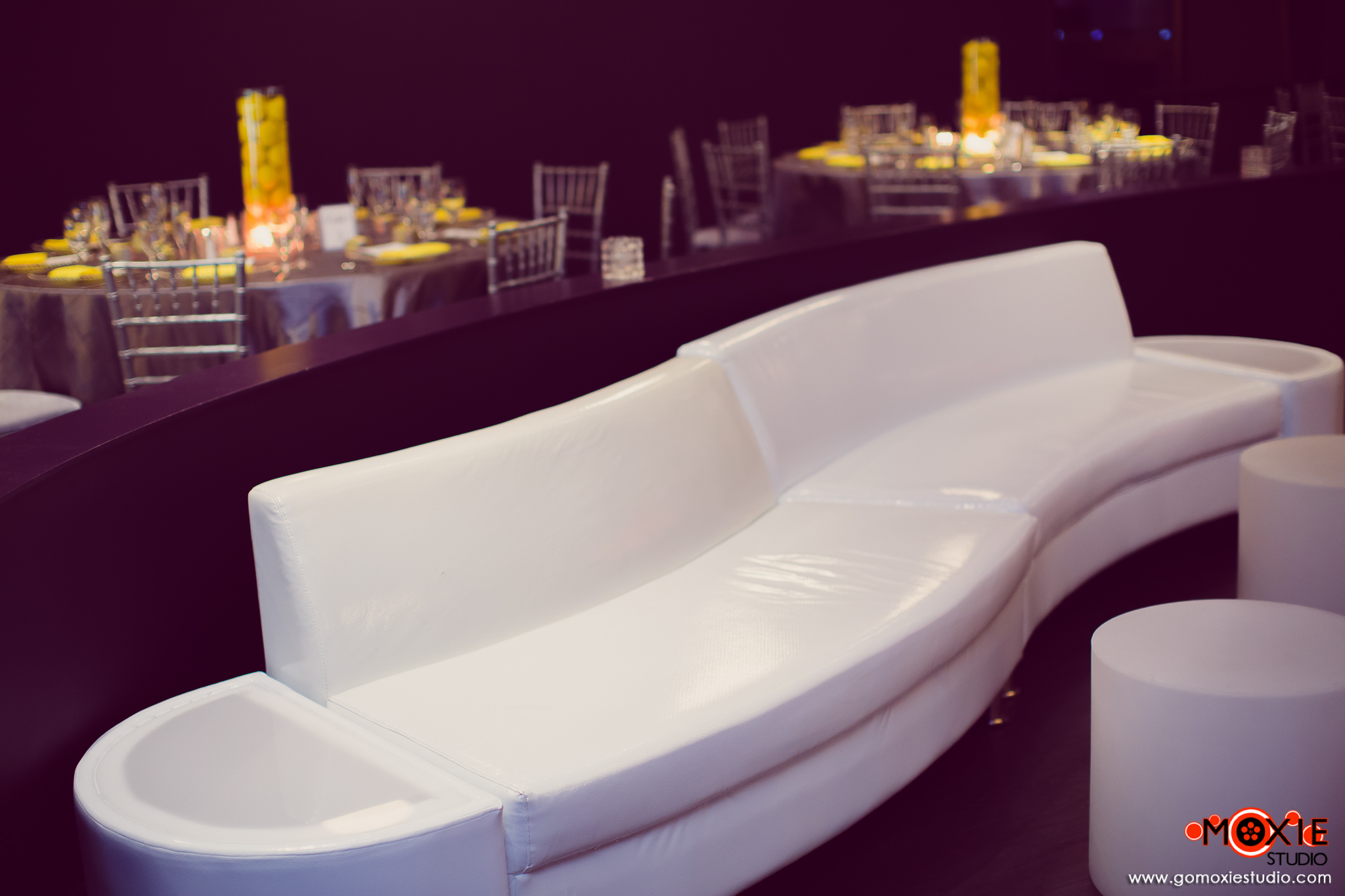 After the ceremony, guests moved inside to the JW Marriott's Edge Lounge, where Furniture By Dzign brought in tons of lounge furniture and light-up tables to really hone in on that relaxed, ultra-lounge aesthetic. Overall, the contemporary furniture really helped to add a streamlined feel to the stunning reception space.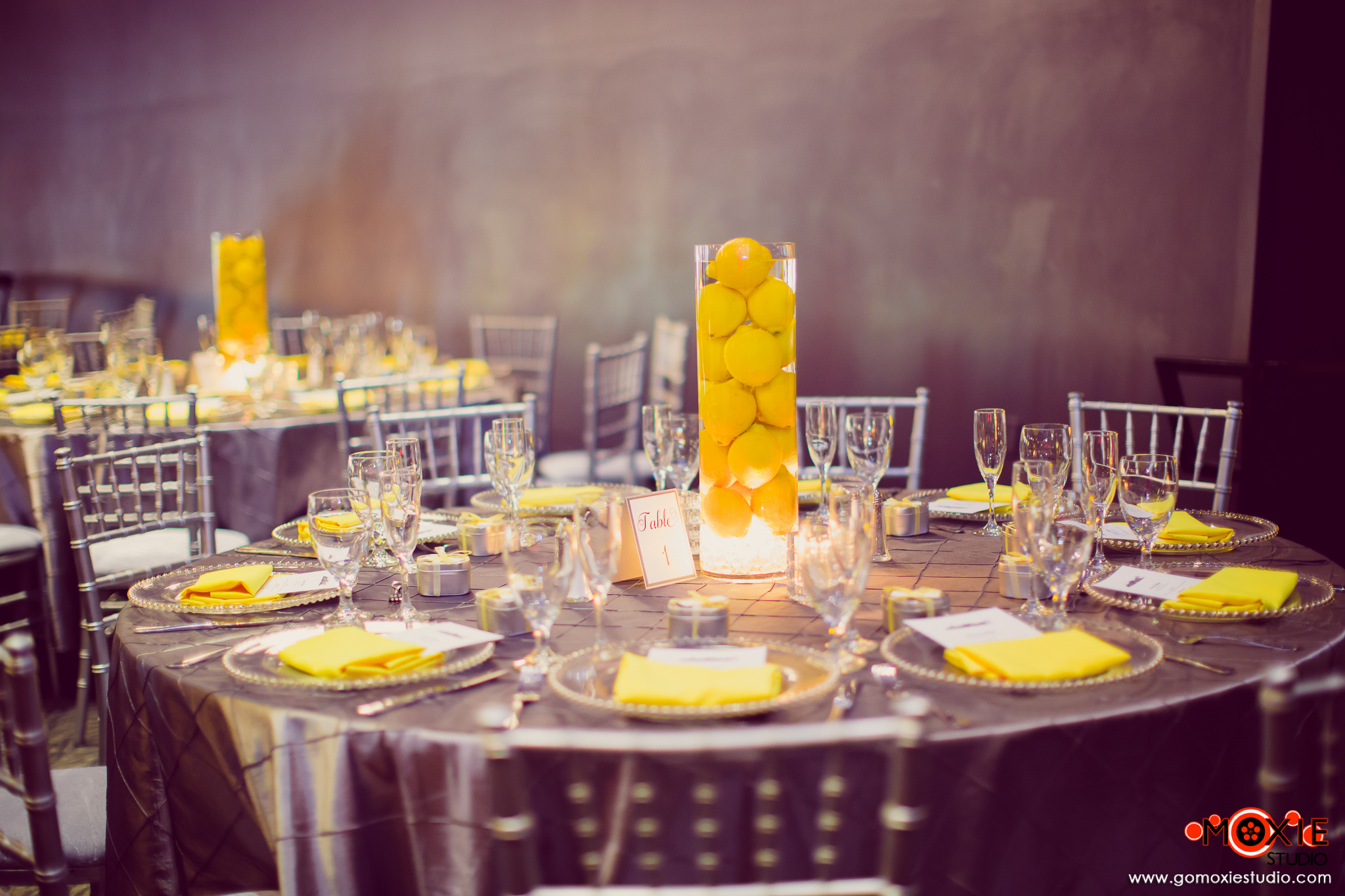 Will and Steven chose glass cylinders filled with bright yellow lemons as centerpieces and—for an added glow—we lit each from the bottom. The lemons were among our favorite design details, and they really brought the couple's yellow wedding inspiration to an entirely new level. Linen By Dzign brought in stunning silver linens, which paired perfectly with our silver chiavari chairs. And, just to add that extra pop of color, bright yellow napkins sat pretty at each guest's place setting.
Working with Will and Steven was such an amazing opportunity. We absolutely loved bringing their bright event vision to life. Foregoing flowers isn't something we often get to do at Weddings By Dzign, and we so appreciated the fact that the couple trusted us to tackle this design challenge. Almost as glowing as their wedding, though, was the gracious review Will and Steven wrote of our services after their event:
"By-Dzign, WOW! We originally thought we would get different vendors for floral, decorations, lighting, etc. But once we met with By-Dzign, we knew instantly that they would take care of everything for us. And that they did and more. Our expectations were far exceeded by By-Dzign. They met with us several times before the wedding and made it their priority to really understand our vision for the big day. And boy, did they deliver. The reception looked like something out of a movie. They provided everything. Decorations, center pieces, lounge furniture, chairs, linen, you name it. They were beyond professional and attentive to our needs. After realizing one of the boutonnieres was missing, they were on the phone and had one rushed to us in minutes! It was crazy how fast it arrived. Every single one of our guests complimented us on the decorations – not exaggerating – every single guest was blown away. We can't say enough about By-Dzign. Do yourself a favor and book them now – you won't regret it!"